Regular price
Sale price
$12.99 USD
Unit price
per
Sale
Sold out
Cage bearings that allow more balls to be placed around the knife pivot than standard cage bearings. Which provides more support for the blade and decreasing stress on each ball. The ceramic balls are captured in the disc but are still free floating to prevent binding.
Includes Grade 5 ceramic bearings pre-installed.
22% increased blade support over caged bearings of same size
Improved ball pathing around pivot
Less pivot screw tightening required
CNC machined from solid phosphor bronze
Dimensions

| | | | |
| --- | --- | --- | --- |
| ID | OD | Disc | Ball |
| 0.238" | 0.492" | 0.050" | 0.0625" |
| 6.04mm | 12.50mm | 1.27mm | 1.59mm |
Ordering details

One set equals two individual cage bearings
Share
View full details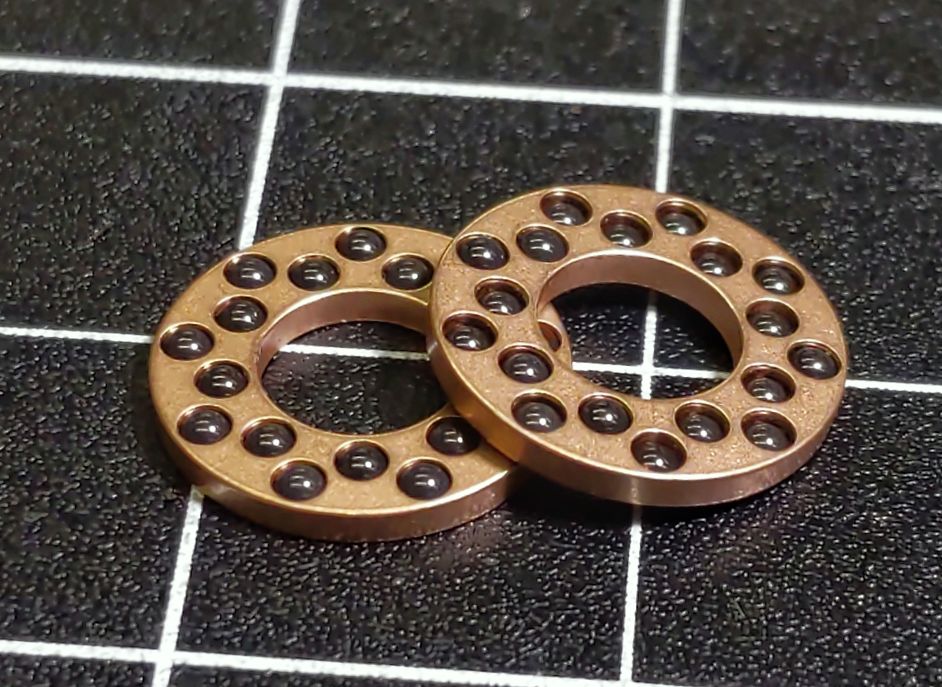 You know what it is!
Can't live without skiffs. Got these for my kungfu padre, no issues.
6mm 1/16" (18-ball) double-row bearings - Yes!
I have a couple of Twosun knives with 6mm pivots that came with factory double-row bearings (TS329 and TS344). Although the action on these knives was Ok, I thought it could be better and I wanted to try some Skiff bearings to see if I could improve it. The OD of the original caged bearings (0.525") didn't match the OD of either the two 6mm Skiff double-row options but was close to the 18-ball option (0.492"). So, I dove in on the 18-ball bearings for both knives. I'm happy to report that the 18-ball versions fit both knives perfectly and IMHO have given both knives a smoother action than they had previously. My copy of the TS329 "Vandal" has a pretty stiff effective detent from its button/plunge-lock and was difficult to reverse flick open with its fuller prior to changing out the bearings. It can be reverse-flicked open more readily with the Skiffs. Plus, the acoustics have improved with a more refined "ting" when it's opened. Very smooth drop-shut action. The TS344 has better acoustics now too and also drops shut more smoothly when closed. These double-row bearings are a winner.
Like magic!
Replaced the OEM bearings in my Kizer Lieb M and the mild wobble simply disappeared. Like magic!
I expect to be modifying all my knives with Skiff bearings.
Awesome
Fit nicely in my Kizer tower k button lock folder
Excellent Service + Excellent Product = Returning Customer
These particular Rocket Glide Skiff bearings were out of stock and I reached out to Steve via email. He personally responded to my email advising the approximate stock replenishment date. So I set a reminder. One day prior to that date he replied to the same email notifying me they would be in stock the next day. A true gentleman and he earned my repeat business. These are the only aftermarket bearings I will ever buy again.